Tuesday 5/11/21 Day 4 (383 miles est)
Checked out of camp, local road back to I70 for 30 miles then onto St Louis. Straight shot into the arch! We held off on venturing into the Arch, its now a national park and we read that the parking for RVs was very challenging. Instead, Karen took us for a scenic adventure through East St. Louis.
Should be around here somewhere...
Found it!
After a couple of U-Turns, we found the factory I mean park with a scenic view of downtown and the beautiful arch! We walked to the top of an observation ramp, snapped some pics and tried getting on the live stream webcam but no one at home was answering phones or near a computer. Onto Carl's Drive In for lunch. This was delicious! Great burgers and a questionable hot dog (Road Food book). Back onto the road for Bennett Springs State Park for the night. We got onto I-44 which has parts of historic 66. No stops tonight but it looks like there is going to be a lot to see moving forward! Came though a smoky fire, not sure if house or brush but we caught a local FD truck rolling to it on a side street! Decided to start counting armadillo carcasses, aka "Hillbilly Speedbumps" 34 today alone!
Pulled into Bennett Springs Campground, a nice state park that appears to be ripe with the fishing community, with a trout hatchery and fly fishing school on site. Wish I brought a rod or had more time to maybe rent one and give it a go, but we have some ground to cover if we want to make the GC by the weekend.
Carl's kept us well through the afternoon so we decided to forgo dinner and just snack and desert. Campground was pretty wet and it was getting late so we opted for a movie instead of a campfire. "CARS" was hooked up to the big screen and we enjoyed a nice quiet evening the RV. We still have a half hour left in the movie but it was really great. Looking forward to seeing some of the sights and mentions coming up on Rt 66. In for the night and looking forward to our push for Oklahoma tomorrow!
Bennett Spring State Park
26250 MO-64A
Lebanon, MO 65536
Wednesday May 12, 2021 Day 5 (350 miles today est)
Earlier rise today, so KD decided to give the stove another try, this time lifting the protective glass counter off the stove, but first, we'll get Mel off the floor. We've had our struggles trying to find overnight comfort for Mel. First couple of nights she elected to stay int the front seat, but this led to some swollen feet. Managed to get her in the back but the seats just aren't great for her. Last night was the best, which included the plywood board from the dinette seat, and the bottom cushion from the dinette on top of the board, all placed onto the couch. This led to a fairly unstable situation but we thought we'd give it a try. Great night of sleep, but when it came time to get off this contraption, things just slid too much. We'll keep trying!
Delicious breakfast in the rig, cleaned up and hit the road! Another gorgeous, sunglasses required, day of driving. First stop today was a full fuel up, before heralding into Joplin Kansas for a couple of quick mural photos. Visited town hall in search of a Bonnie and Clyde mural but couldn't find one. The Route 66 murals in and around city hall were beautiful! Next stop just a few miles down the road is the Can-O-Tex fuel station turned roadside attraction in Galena KS, aka "Radiator Springs" consisting of a number of the vehicles that we based on the movie CARS, most notably "Tow Mater" the pick up, the Sheriff, Luigi, and Red, the fire truck! We stopped in and met Jeremy, presumably the son of the kind woman who owns the roadside diner/souvenir shop. 10K visitors per year April through Oct, 3/4 are international travelers. Biggest news in town is the police chief sleeping with the city clerk. (Or so the story goes...and they're married. Town gossip and fun!)
Onto lunch at Waylands KuKu for another Rt 66 Roadside burger and this one did not disappoint! Drive up only so we wiggled FreeBird into line, chatted up the kind server and relocated to a vacant adjacent lot to enjoy our burgers, rings, fries, and fried mushrooms! Very good but most feel that Carl's yesterday was better.
From Kansas (however brief it was) into Oklahoma and we made nice time to a campground just east of Oklahoma City, on Arcadia Lake called Scissortail Campground. This is a gorgeous spot we got, lakefront with three possible fire pit options! Very large spot and FreeBird parked comfortably. This is a more lively campground with county music from our neighbors and dance music coming from the waterski ski boat doing figure eights off our beach! Still, a very enjoyable evening. Smore's by the fire, finished up CARS inside. Fantastic movie, we really enjoyed this, for obvious reasons LOL. Once quiet time hit at the campground, the place became silent. Very enjoyable. Maybe another cigar......
Texas tomorrow! Very psyched for Amarillo, Texas.
Hillbilly Speedbump count now 54!
Missing my brothers tonight, they would love this trip! Gloria Cubana is on point.
Scissortail Campground
6400 E 15th St
Edmond, OK 73013
Old school... pay by the honor system
Flamingos in the wild
Thursday May 13, 2021 Day 6 ( 300 miles est)
Fireside chat last night we decided to make a pit stop in OKC to 'flock' Ed Cashman's daughter Shelby who got married last weekend. Karen wanted to drop off a bottle of champagne from the Cabin. Made our way to a wine shop prior to the stop and supported a nice local liquor store. Didn't seem that Shelby or Greg were home so a drop and run it was, with a couple flamingos left in the yard! Amarillo is the goal today, need to decide on a campground. I40 W, quick stop at a Lucille's Historic Highway Gas Station, just off 40. Not much there other than to snap a couple pics. KD taking the wheel for the first time too, headed to the Sandhill Curiosity Shop to see if Harley is around. Should be interesting! Karen's driving skills on point, she's been paying attention!
Congratulations Shelby & Greg!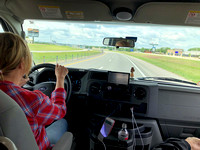 I'm the driver NOW!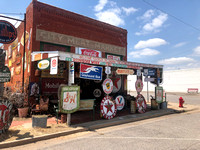 Enter at your own risk!
This little gem was pretty amazing. Be sure to see photos and videos. Harley is a guy who owns and operates a roadside curiosity shop, where he basically smokes weed all day, drinks some Jack, and sings Route 66 songs to anyone who enters his place. He offers photos of anything in his place, consisting mostly of Route 66 highway memorabilia but clearly prefers chatting up his visitors. After a song, he makes it clear that contributions are accepted and points to the three collections jars, before shooing us outside for a final photo. Couldn't help but notice the very large mason jar full of either weed roaches, or the three of fresh bud! Well we wrapped it up, Scott back at the wheel and off to Amarillo it is! Welcome to Texas, where, well, the wind turbines are certainly bigger than anything I've ever seen! And they go as far as the eye can see, in many areas. 15K of them actually in Texas, leading the nation numbers-wise. Not much to see along the highway in Northern Texas.
Got to Amarillo and did a drive-through of the town to go and see Cadillac Ranch, an art installation of 10 old Cadillacs, half buried in the middle of a very large farm field. Mel decided to wait in the rig, as terrain looked very tough to navigate. As we got close, we realized that a guy in a trailer is selling spray paint for anyone to leave their own mark on these things, very cool! Two cans please, Neon Pink for KD and blue for Scott. Off we went to shoot some pics and spray some paint. Karen found a nice canvas on the last Cadillac in line and created a perfect flamingo, a la Cabin 13. Saw our friends again, the ones we met in the curiosity shop, waved hello and passed along some spray paint. Onwards!

We decided on KOA Amarillo. I wanted to do a least one KOA on the trip and, well, I look forward to our next state park. Got off on the wrong foot when I found out that campfires weren't permitted, but now I see why. Adjacent to the small airport, the winds are whipping through this campground. One of the reviews said "its KOA, they stack 'em in there" and they ain't kidding. This is the true to the name RV park. It'll certainly do, just not a top choice. Got our spot and sat out in the sun for a couple hours. Actually put a little sunscreen on! Well, until our neighbors 40 footer pulled in and covered us in shade! Oh well, finished up dinner and it looks Ike an early to bed night. Will take a little walk around the park to check out everyone's set up first though!
The Big Texan Steakhouse for a gift shop visit tomorrow, maybe an Indian trading post also. And on to Albuquerque! I hears there's a Mexican restaurant in our future!
Woke up to a sustained yelling for 'Herman' that lasted until our departure, presumable a dog, cat, child or spouse.
Amarillo KOA Journey
1100 Folsom Rd
Amarillo, TX 79108
Friday, May 14th, 2021 Day 7 (437 miles)
Looks to be our biggest travel day thus far. We elected to bypass the Big Texan in hopes of a different gift shop. Got some fuel and hit the road. The winds were crazy insane, both in the RV park last night and traveling through northern Texas. Struggled to keep the RV on the road at points. Saw one TT that had likely blown over in the winds and travelled about 100 feet off the road. Wreckers were trying to right him. Decided to forgo a large breakfast, ate light and made a bee-line for lunch. Today, its the Mid-Point Cafe in Adrian Texas, the midpoint of Rt 66! Couple more burgers, BLT for KD. these were good also, but Carl's is still taking the win. This place offered an amazing opportunity to see some local cowboys and a cowgirl who are in town doing some 'branding'. The Mid-Point Cafe seems to be the place to grab lunch! We were sure to grab a famous chocolate pie before leaving. Back onto the road. Let me back up a minute, and mention an RV issue. We left camp this morning and very quickly we got a dash warning "Service Advanced Trac" which is part fo the vehicles stability control system. Sounds important but not really. RV still runs well. Some quick research says vehicle is safe to drive, but it will require a diagnosis and assessment at some point. The tricky part here however, is that this has disabled the cruise control system. This could be problematic, and this put me in a bit of a mood today, sorry team! So we made some calls to area Amarillo/Albuquerque ford dealers and service station. It's Friday, which sucks. Ford places were saying 2 month wait to see an RV! Tried a local shop in Albuquerque (Christian's), great reviews, and they were the most helpful so far, but it was 4pm on a Friday the guys were wrapping up for the weekend. Couldn't help us. Suggested Firestone > can't help you. These guys were terrible BTW! Directed to a Campers World but alas, they only care about the Recreation part of an RV, not really the Vehicle. They said only Ford can really fix this. So we'll keep an eye out for a less busy ford dealer. KD took the wheel for a bit, gave me a nice break, Tried researching some camping in AZ but its Saturday and we're striking out. May need to rethink our approach to the GC. Maybe Sedona tomorrow GC Sunday?
Anyway, we feel like we're slowing down a little so we decided to try and drive a little further today. We made it to the AZ border, almost. USA RV Park in Gallup NM. Unfortunately its another private RV park, but it's really the only things available in this area tonight. We're all pretty tired today so we're going to crash early. Oh, didn't get the warning light this afternoon and cruise control seems to be working. Finger crossed. We still need to get that oil change.
USA RV Park
2925 W Historic Hwy 66
Gallup, NM 87301
Saturday May 15th, 2021 Day 8 (205 miles)
Bacon and eggs in RV, toast on the grill.
Short drive to Flagstaff today. Crossed the NM/AZ border! 1st stop is the scenic drive through the National Petrified Forest and Painted Desert. 45 min drive along Rt 40, with lots of scenic views and petrified wood. Great pics, which of course won't do any justice. This was easy for Mel as it way just a nice drive on a day she isn't feeling great.
Next stop was the Jack Rabbit Trading Post, lots of excitement about possible gift shopping with billboards etc. (Reminds me of South of the Border Pedro) but this was a bit of a disappointment with very limited stock. Grabbed a couple of postcards and a sticker, onwards!
Somewhere in Kansas....
1004 miles later...
Here it is!
Winslow Arizona! Easily found the street corner, clearly the biggest attraction in this awesomely sleepy town! Very dusty as we rounded the corner of Kinsley and East 2nd street to see a flatbed Ford an opportunity for a couple of great pics. Parked FreeBird and walked up and enjoyed the street corner/intersection for a little bit, snapped some pics, and headed out. I think we just beat a good sized crowd coming in!
Onwards to Flagstaff, driving was decent but remains very windy, FreeBird is all over the place, but she still seems to be holding together. We started the day with good luck in regards to the traction control issue, and cruise control seemed to work. But, all good things must come to an end, dash lit up and cruise came off, damn. Oh well. not the end of the world. Someone we talked to about this mentioned disconnecting the battery for a minute and the computer will reset. I Weill definitely consider this, but I'm also worried that any other computer system would be effected by a reset like this. I'm sure it'll be fine. Going to wait to until after GC and we get back on the open highway before worrying about it.
Onto Flagstaff, seems like a great town. Karen did some quick research and found a popular pizza place called Pizzicletta that opened at 4pm. Perfect timing before checking into Woody Mountain Campground. Found a public lot and called in an order which was ready in 10-15 mins, perfect! We split a mixed green salad and two pizzas. Margherita with ricotta and a Rucola with extra mushrooms. Pies were great and it sure beat another day of hamburgers! It's just what we needed. Brought them to the campsite and ate them once we settled.
We got pretty nervous earlier this morning in regards to reservations. We didn't know exactly when we'd be arriving in the GC area so we held off. Well of course our arrival is coinciding with the weekend. Based on our location, the time of day, day of week, and overall tiredness, we decided to hunker in Flagstaff as campgrounds in Sedona and GC were sold out. We may have gotten the last spot in Flagstaff actually. The Woody Mountain Campground seems to fit the bill nicely. Just before getting here, we also emailed a reservation request to the Grand Canyon Camper Village, 1 mile outside the South Entrace to the GC. Once we settled in at Woody mountain, we got the email confirmation for Sunday night at GC Camper Village so we are very stoked about our campsites and plan the next couple of days. Unfortunately, it's starting to look like Sedona may not a possibility on the trip. No worries, it sounds so great that maybe it will deserve its own vacation! So its looking like GC tomorrow, great campsite next to the park will position us nicely for sunset Saturday evening and sunrise Monday morning. Thinking that we'll beat feet back east after sunrise Monday morning.
Woody Mountain Campground > pretty cool place. It really beats the past two nights of wide-open dry and dusty pack-'em in RV parks. This is much the same, however it seems that each site is separated by many pine tress. There's just a better vibe here. It's definitely sold out, we were very lucky to get a place here tonight. Check-in was a breeze, the manager/owner/HMFIC woman is named Danielle I think and she's just a bit crazed and hyper, but she's running the whole show it seems: camp store, check-ins, questions, and circuit breaker resets which require a quick close of the store and her running out to flip a blown circuit breaker located somewhere inside the park. Amazing. Decided to do some laundry, which is always interesting in places like this. Besides a round two on the dryer, all went well. Didn't realize the possible temp drop to the mid 30's tonight, despite some very warm weather in NM (80's). This 5000 ft elevation is certainly bringing the temp down some. Going to need the heat again tonight. Very comfortable site, despite the closeness of everyone, it seems well laid out. We met Jim and Patty from Colorado next to us. They have a disabled 11 year old, Brianna (?) requiring a chair. They just bought a new trailer and pick-up to start traveling again. They also have twin 8 years old, one with high and the other with low functioning autism. Wow, don't know how they're doing it but they extremely pleasant folks. Out on a one month vacation now, then home, then traveling to Obispo, CA for another month long trip this summer. Good stuff!
Finishing laundry and calling it a night. Big day tomorrow!
Woody Mountain Campground Site 57
2727 W Historic Route 66
Flagstaff, AZ 86001