April 23, 2021
Pitched a crazy idea to Karen's Mom (Mel) that we check an item off her bucket list, a visit to the Grand Canyon. With freshly injected knees, vaccinations all around, and some work flexibility, we all said "Why not?"
April 30, 2021
After about of week of searching viable RV rentals, which included Cruise America (!) and Outdoorsy, we settled with Massachusetts's own Flagg RV, located in Uxbridge MA, and home to Kate Owen, our spectacular rental specialist. Today we paid in full for our to-be nicknamed, 30' Freelander RV. Karen, Mel and Scott are one week away for a road trip of EPIC proportions which include bucket list items The Grand Canyon and Route 66! Our rental period is Friday May 7th, 2021 through Monday May 24th, 2021. The RV does not not come equipped with any amenities, so we have a very busy week ahead of us preparing for this adventure. Scott is driving Chris to CT tomorrow for his big (!) move back home, so we've already lost a day of prep. Amazon Prime, Target, Dicks, Bass Pro and Roche Brothers, here we come!
May 1, 2021
Chris and Scott paid a visit to Flagg RV to snap some photos, take some measurements and see the RV. Staff were incredibly helpful and accommodating, full RV supply store on site.
Chris approved, "It's a VERY nice!"
Road trip practice run to New Canaan
Booked Leonard Harrison State Park for our first night. Decision to try 84 W to Scranton, then catch Rt 6 for a more northerly route and hopefully nicer scenery. #scenicbyway. Campground looks good with electrical for our 1st night. Tentatively thinking Columbus OH for goal on 2nd day. Being a Sunday, we are less worried about full campgrounds, and we don't know yet how many miles we're comfortable with each day. More to follow.
May 3, 2021
AAA for the win on maps and a road atlas!
A lost art!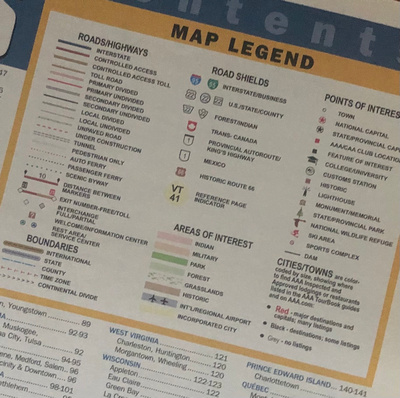 Be one with the Map Legend!
May 5, 2021
Plans are coming together and packing/organizing continues! All ordered items have been delivered and last minute purchases should be coming to a close. Food shopping Fri will be one of last things to get done prior to RV loading! We plan to pick up the RV in Uxbridge Friday at 1pm. We will have a 30 min orientation to the RV then Scott will drive it to Farquhar St where she will sit in the driveway for the night, if neighborly parking cooperates! After food shopping we will begin loading the RV up with all of our stuff and hopefully early to bed (HA!) Plan to pick up Mel early in Dedham then we hit the road. Danbury CT is the goal for a first stop to meet the Cluett's who wanted to wish us well on the journey!
May 6, 2021 (Thursday)
Exchange of one elite YETI chair because the colors didn't match. I created quite the fiasco at Dick's for this return and its now likely we will be reimbursed for one chair despite now having matching YETI chairs. LOL
Much needed visit from the HTC/Flock who went completely overboard with three road trip gift baskets. Absolutely amazing with games, snacks, drinks, cookies, gift cards, sanitizer, it goes on and on. Blessed.
May 7, 2021 Friday
It's RV pick up day! Quick check out and orientation with Steve Flagg. All seems straightforward, but there's no way we caught everything he said, gotta keep it interesting! Headed to Farquhar where we were able to get her backed into the driveway without any difficulty. Some food shopping next and then we'll spend the evening stocking her up! Hopefully early to bed, long day of driving tomorrow! Brickhouse take out for our last suppah! Nice visit from Dawn tonight too! Our friends are amazing and seem to know when we need a little boost. Good stuff.
It is happening!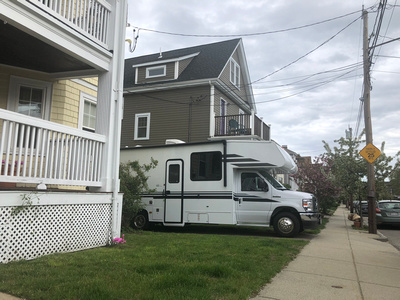 The neighbors are talking!
May 8th, 2021 (Saturday) (Day 1) (410 miles est)
Early start to the day, awoke to an RV in the driveway. Interestingly, it seems that the water tank leaked overnight, and we noticed a fairly steady leak from under the hot water heater. We weren't too concerned about it since it was just water. Figured we would call the tech from the road for some advice. Anyways, out of the house at 7ish, well, as soon as Jason Jr decided to get out of the house for Marine drill. He assured us his parking would be perfect for an early departure in the morning, as we needed the wide swing out of the driveway. Well, off we went to Durham Rd to pick up our Queen. Mel was waiting by the door and ready to go, so we packed her up, closed down Durham and off we went! Very comfortable, up onto the Pike and decided to make a short stop at D&D in a rest area for coffee and BEC. Onwards to Danbury Mall to see the Cluetts for a quick hello. We met at 11am in the Macy's parking lot after an uneventful ride out. We did see a TT being pulled from deep int he woods, poor fella. Cluett's didn't disappoint with warm greetings and smiles! Dad really seemed ready to hop in and join us. Seriously. And mom with a gift basket, my goodness we're not gonna starve on this trip. Thank you Mommy!
Back onto 84 W through NY and into PA. First stop was the Glider Diner in Scranton PA. Just pulled the RV into the lot and in we went. Fun little diner that accommodated us nicely distanced inside. Seems the entire menu is your entree, smothered in gravy and potatoes. Meatloaf for Mel, roast beef, gravy and mashed for Scott and sliced pork, porketta, gravy and potatoes for KD.
Adventures in parking!
Road food close up!
As we headed out the back door, couldn't help but notice Pennsylvania EMS at the front door. Slip and fall maybe? Or the gravy...., or the meatloaf. Stopped for our first fuel on the way out of Scranton, two transactions, as we easily hit the $100 limit. This will be interesting. LOL Hopped onto Highway 11 North and onto 6 West. This fun local road kept us moving and traffic wasn't bad at all. Beautiful farm country, barns and silos, cows, and horses. We made our way into Leonard Harrison State Park for our first campground. Small place and very well appointed. The office was closed when we arrived but a post on the door indicated site reservations for the night. We checked out out site, #26, but decided to fill up our water tank first, and meandered down to the scenic view of the Grand Canyon of the East Coast. With a couple of turkey vultures circling overhead, we snapped a few photos and enjoyed an ah-ha moment. Back to the site where we plugged in, lit a fire, snacked up and debriefed the day. A good success it was, very happy to have made it to our intended destination, we thought we may have been a little over zealous. We'll figure out the mileage when we get cell service back. We're off the grid at this campsite. Did some blogging and reading, and shut it down for the night.
We're just getting started!
Pennsylvania's Grand Canyon, The Cluett Road Trip appetizer!
Leonard Harrison State Park
Shipped Township, PA 16901
May 9th, 2021 Day 2 (312 miles est)
Slept in a little bit today, not a lot of sleep the night before with all the excitement of this trip! It was an ok night of sleep, we're struggling with the thermostat and the clicking of the AC unit for some reason. We'll keep trying. Breakfast in the RV was an adventure, turns out the cover for the stove does not make it an induction burner, its simply a cover. Wonder what those are going to cost? Anyways, the smoke detector works and we should probably grab a fire extinguisher along the way. Egg McDriscoll's were still delicious as always. Clean up, and we hit the road!
Lift glass before cooking!
The defense rests...
Out of the site around 10:30 or 11 today, nice campground but definitely off the path a way. We back tracked into Wellsboro and hit 287 South which was a gorgeous farm and forest filled ride. Onto 80 West for Western PA and what an adventure that was. Who expected a snowstorm in May? Wow, it was dumping with a number of spin outs. Took it slow and the RV did well. Stopped at a Walmart for the LAST heating pad, grabbed it but its only USB with a two hour shut off. Better luck tomorrow, and maybe a ceramic heater?
No one is going to believe this!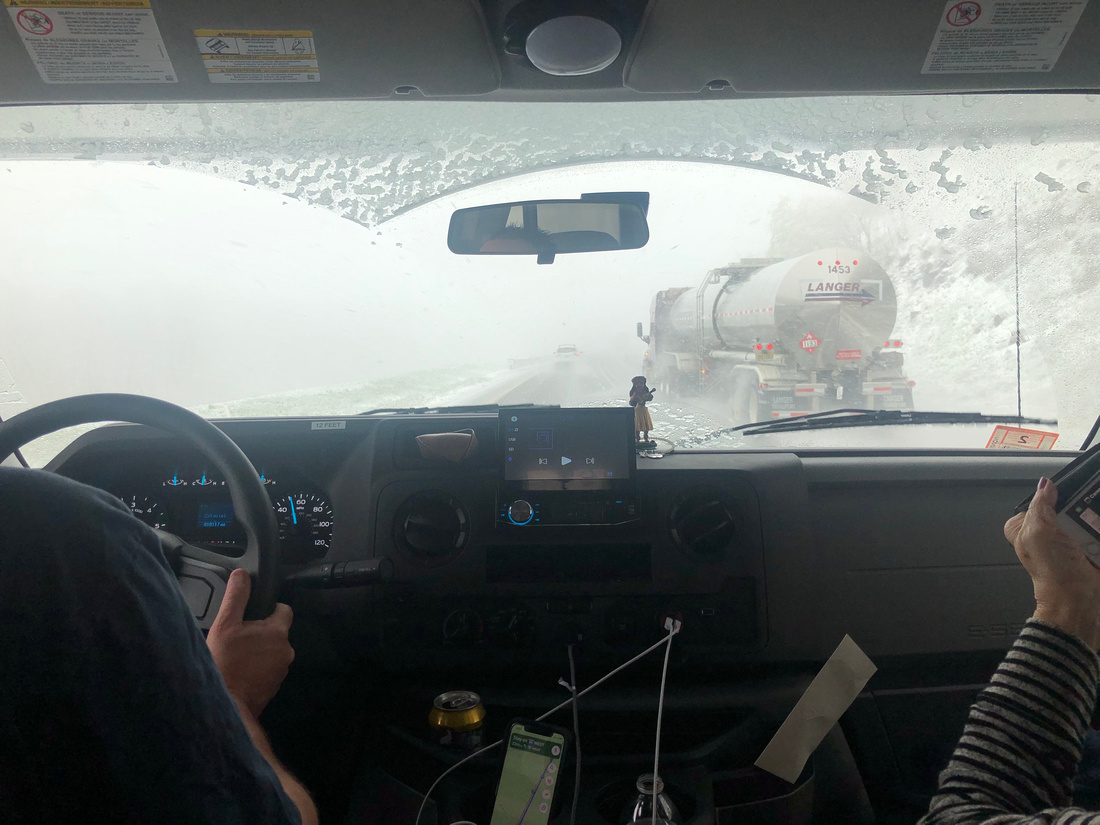 Does this thing come with snow tires?
Made our way to "Maple Lakes Recreational Park" for our $60 campground experience, with Mystina who run the front desk. Wow, Law & Order episode out of this place. Lots of full timers/seasonal folks, but no one is around at all, likely due to the weather. In for the night, Greek market goodies, spinach pies and meatballs for dinner (Brick House leftovers!). And all the snacks of course! The weather system looks to be behind us, onwards to Indy and St Louis next!
Maple Lakes Campground
4275 Blake Road
Seville, OH 44272
May 10th, 2021 Day 3 (340 miles)
Good night of sleep here are Maple Lakes! Facilities clean and good showers. Had a nice walk around the campground last night. Place seemed very full but its extremely quiet. Seems folks park their rigs here for the season and enjoy it on weekends. It did the job nicely, onwards we go. Should be shooting for just past Indianapolis today.
Grabbed some fuel and onto 76W went went. Sunglasses required today, thank goodness. It was a glorious day of driving. A couple of rest stops were nice but uneventful. FreeBird seems to be running great and she's driving very nicely. Ran through a couple of great playlists, and started an audiobook (a first for us) and it was very interesting! (Stay sexy and don't get murdered). We reached out to McCormick's Creek State Park and they assure us that they'd have plenty of vacant sites for us tonight, electrical included. We decided that we are going to make a concerted effort to stay in State Parks vs the resort style RV parks. Big differences and the RV park will have its place again, especially for laundry facilities. We're more the State Park type folks and McCormick's seemed to fit the bill.
Made our way through Indianapolis without any difficulty, another hour to McCormicks Creek State Park. Very nice rangers checked us in, huge beautiful campground with tons of vacant sites. We were given a site post maker and a rear view reservation placard stamped "DNR". Most in the RV assumes this was a declaration of code status, but we soon realized it stands for Dept of Natural Resources HAHA. Backed into a tight spot between gorgeous pines. Closest neighbor was 5 sites away. This is pretty close to perfect.. Set up the Weber, made a fire, and settled in. Shrimp on the barbie tonight. Simply placed into aluminum foil boats with butter, salt/pepper, and some garlic. Some were finished off outside the boat on the grill. Placed into a tortilla with some tzatziki and a squeeze of lemon. Served with some delicious grilled zucchini spears in oil/salt/pepper. This was a damn near perfect campfire meal. Finished off with some s'mores, then a short walk around the quiet loop of the campground. Only a few occupied sites, very quiet in here. Behind us is some 'primitive camping', who knows what lurks beyond.....Enjoyed a nice Cohiba by the fire, Dead on the Bluetooth, maybe another s'more. G'night.
License, registration and code status!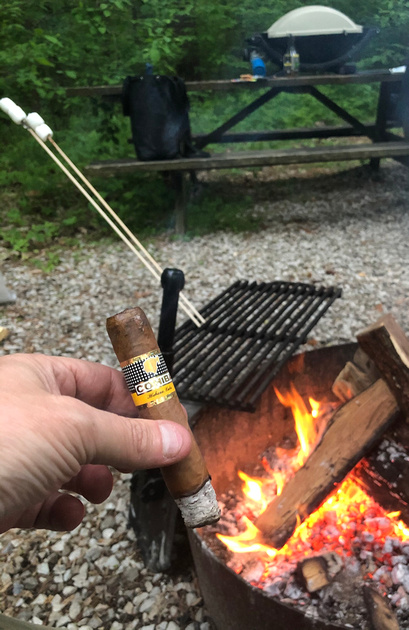 We had a couple of raccoon critter visitors late night! While the ladies slept, I was relaxed by the fire when two fellas came creeping under the back of the RV and said hello. These guys must have weighed 34-40 lbs each. They scurried off after I gave them a little scare back! Time for bed!
McCormick's Creek State Park
250 McCormick Creek Park Rd
Spencer, IN 47460