Friday May 21, 2021 Day 14 (sol 13.59) 323 miles today
Scott cooked a disaster of a breakfast for the team today, scrambled eggs, bacon (which Karen cooked perfectly) and English muffins. Smoke detector still works and all crises diverted. Nourished, it was on to a fuel stop. We're finding our credit card is getting flagged for frequent use which is annoying when trying to pay at the pump, especially with most stations having limits of $75-$125. Our full fill up is around $130-140. Quick stop at Whole Foods to pick up dinner ingredients for a repeat of our first night, grilled shrimp and zucchini. KD ran in and I worked the phones for a reservation.
Pretty much a straight shot right out 90 East but heavy traffic made for a long and fairly challenging day. Stopped after about 3 1/2 hours for a quick stretch, and there happened to be a Tim Horton's there. Gotta get a pic for the fam in Newfoundland as this is mostly a Canadian coffee shop. Tim's was closed so it was just a quick stretch for the final 1.5 hrs to our campsite.
The Cherry Grove Campground in Wolcott, NY sits right between Rochester and Syracuse, in a town that sits on Lake Erie. We waited a little too late to book a reservation but we really didn't know how far north we'd be today. With an extraordinary weather weekend in the northeast, we found it difficult to find room at RV parks. After a couple of strike outs and no call backs, we reached the Cherry Grove Campground and they had availability for us. It's well off the 90 East route, but 104 East runs parallel to 90 so we're still moving east. We're up close to Lake Erie so lots of tackle and boating stuff along the way. Reviews seemed good, mentioned a good number of seasonal folks but room for nightly and weekly's. Also a farm stand across the street? WooHoo! They had room for us so we booked it. Very short but efficient on the phone. Checked in at the office, Susan the owner greeted us kindly with her daughter(?) checking us in. Got our site map and made our way to site 72, which is clearly located with the rest of the transients in the back of the park. There seem to be permanent vacation trailers in some spots, with in ground flag poles, full decks (including one being built as we passed by) and small gardens. One trailer-front had a ridiculous assortment of wind chimes. While snapping a picture, the conversation with the owner turned into her history with a previous neighbor who couldn't stand the noise. We both agreed its a wonderful way to fall asleep....I then i left crazy to her wind chimes! Site 72 sits with a vacancy to the right and a family of 4 with a pop top to our left. Pretty quiet family, he's retired from Firestone and she's SNF nurse, recently ran a COVID floor, yikes. Pulled in, hooked up and set up for a nice outdoor grill and dinner. Very warm night out and we soon realized the the mosquitoes were going to be huge problem. The bug spray is barely cutting it but some candles and the fire made it semi-tolerable. We were pretty hungry, and looking to clean out the fridge a little, we decided to grill up a few hot dogs as a snack. This also gave us an opportunity to scout the grounds out, as this is pretty clearly one of the weirdest places we've been to yet. The owner, Susan, is a tough one and very clear with her expectations. There is language in the camp rules about three warnings for violating the 5mph speed limit and you're ejected. She mentioned that April and May are her months to get the place ready (common theme) and she's been pretty booked. Seems like its just family running the 100 site park. Serious machinery with a big John Deere that Susan runs around in, moving wood, gravel, etc.
Getting away from it all?
Or bringing it all with you??
After a call to New Canaan to say hello, we fired up the zucchini and shrimp for another yummy meal. A wheelbarrow full of wood requires a pretty big consistent fire most of the night. Relaxed outside for a bit, blogged and enjoyed the last Gloria I had. Mosquito problem seem to have died down, along with he rest of the park. Oh, the farm stand. No veggies or fruits ready yet, too early. Just selling some plants and such, bummer!
At dinner, Karen "I am destined for a mosquito borne illness" in true Debbie Downer fashion. But in all honesty, these things are vicious tonight. Also Karen: "It's like a marina on steroids in here"
Everyone is traveling with a dog. Everyone.
Just heard a child scream of terror. Could be an interesting night.
Two spots over, group of tweens around a fire "what would you do if I kissed you right now?"
Cherry Grove Campground, Site 72
12669 Ridge Road
Walcott, NY 14590
Saturday May 22, 2021 Day 15 ( 346 miles today)
Its a bittersweet day today, while this has certainly been the trip of a lifetime, we are looking forward to getting back into some of our comfortable settings. First, we got a few more miles to put behind us. We awoke at the magical place that Cheery Grove Campground is! A decent shower felt great, and we started cleaning up our site. With this being our last campground of the trip, we wanted to take the opportunity to dump our RV tanks (other wise facing an emptying fee at our rental place). Our neighbors seemed to enjoy an extra long breakfast on Saturday mornings, which was interfering with our plan to hook up to the sewer pipe. (Did't want to perform this task as they were inhaling their sausages and eggs!) I walked up to the office and inquired about another option but Susan said the free public dump is very tough to navigate. I elected to allow our neighbors a few more minutes of peaceful eating. My impatience finally go the best of me and I approached "Hi, I'm so sorry to do this but we need to hook up here so that we can get on road, do you mind?" All smiles, and "of course not, everyone has to do it!" So I proceeded to tackle the stinky slinky and performed the task as quickly as possible. Wrapped that up and we hit the road, we hit McDonalds for some oatmeal, a biscuit sandwich and coffee. After some fuel, it was 90 East for some very uneventful driving. Lots of beautiful (and working!) farms in upstate NY, including many vineyards. Through Syracuse, Albany, (Hudson!) in finally into Mass! One last rest stop break for the final push and we hit Dedham around 4:45pm!
Very pleasantly surprised to see a beautiful "Welcome Home" banner hanging across Mel's deck, along with a big bag of food from the Hot Tub Club (Karen's besties!) So so thoughtful, we are very lucky people who have incredible friends! We spent some time getting Mel squared away, we're all pretty exhausted and ready for some R&R!.
We pulled Bob out of Durham Road and made our way to our home in Roslindale. As I was negotiating getting Bob into our driveway, the left rear panel on Bob made contact with our neighbor Jen's car, huge bummer after two weeks of completely uneventful driving. Never fails!! Oh well, she took it very kindly and we spent the evening unloading the RV and getting settled at home ourselves. Very hot at home, and the pollen is not to be believed! Oh, and we had a Hot Tub Club visit and flocking as well as a complete food stocking (all homemade from the kitchen of Brenda McGowan) from Karen's friends Sian and Katie (representing her CRNA crew), who may have stayed a night or two on Farquhar to be a little closer to work. We were happy to help her out, and to see what she did for our return is just pure kindness. Her friends are absolutely amazing. A fully stocked freezer and fridge, plants, more gift bags, spa treats and a gift card to Pleasant Cafe, which got our pizza and salad order for the first night home. Glorious to sleep in our own bed!
Meet the welcome home crews below!
Spent the next day, Sunday, cleaning the RV and performing a minor repair to the taillight with my buddy Steve, who came by to say hello and see the rig. Unselfishly, he spent the entire day helping to get the tail lights repaired, the scuff marks buffed out, and a thorough interior/exterior cleaning, much appreciated Steve! Hot day at home, meatball sandwiches on the deck with the Robin and her new babies. Bob goes back to Flagg RV tomorrow, There's no way they'll ever pick up on the marker light replacement with how great the rest of the rig looks! A little fuel before we pull in tomorrow, otherwise, we are putting this trip in the rearview! Lot and lots of photos and video to sort through, we'll get to that in good time. For now, some more rest and incredible memories to think back on!
Some End of Trip Thoughts:
We feel like we really ripped the bandaid off of masking moving forward. Most of America seems to be unmasked, and in some states, completely disregarding masking requirements for establishments. We are getting close to relaxing these mandates back home, but it seems rural America has been done with them for a while now.
Glimpses of a forgotten time....
Blogging this entire trip, a commitment every night, was fun and I am sure we will look back on this with great fondness and appreciation that I did it, but it is a commitment, and at times may have taken away from some good downtime/quiet time with Karen, especially on a few of those long hard days. We took a break from social media posting on this trip also, purposefully or not, and it was nice. We felt a little disconnected at times, but isn't that the point?
Finding fun on the road....
Everyone needs a killer playlist..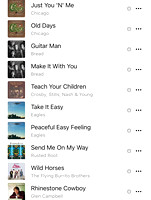 Screenshot
Screenshot
Screenshot
Screenshot
Screenshot
Instead of 'gramming on this trip, Karen focused her energy on what she is calling her "Black and White Series". She worked very hard on capturing three separate images that tell a bit of the story as she would like to remember it. Here are those photos:
While we really only got a glimpse of America from the major interstates, it is pretty clear that a lot of this country is really suffering and having a difficult time. Many farms were barren and unattended, gift and souvenir shops have very tired inventory, restaurants are clearly struggling with changing regulations and low numbers, and many storefronts are just closed up. Big box stores like Walmart seem to be doing ok, but, as Karen observed, it's a stark reminder of why a lot of America was looking for different national leadership to help improve the conditions in rural America. We have a long way to go! Domestic travel like this trip definitely helps, get out there friends!
Bob....Good old Bob, aka Bucket of Bolts and Freebird. She did the job for us in the end but by no means was it comfortable. It was nearly impossible to have a full conversation between the three of us due to the road noise coming up through the vehicle. Every conversation included lots of "Huh?'s, Sorry?'s and What was that's?". Finding comfort in the back during the daily drive and as a bed for Mel nightly, was a struggle. The lack of a comfortable forward facing seat, and cup holders in the rear make for very long travel days and lots bruising. We finally got into a nice rhythm of building a semi-comfortable bed each night in the galley, and we all settled into our routines eventually. We affixed a number of plastic hooks throughout the RV, as exiting screwed-in hooks pull through the cheap particle board with the slightest amount of weight. One of the rear shades even came down one day, just bouncing along the highway: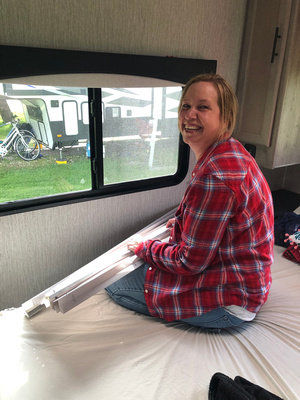 Note to self, don't pull the blinds
We found ourselves constantly screwing in loosened screws and trying to find homes for ones that had fallen out. I think we came out just about even in the end! While Bob did the job fairly well, and safely (the traction control system issue never alerted again once we got out of Texas, elevation issue??) Interestingly, the one thing we got penalized for was a hub cap that appears to have gone flying off somewhere in Pennsylvania! Never even noticed!
I think I'd be hesitant to do something similar again. I'd like to try pulling a trailer (Airstream!) That's gotta be a great way to go. You have the comfort of your own vehicle and you can drop your living quarters each night and easily go exploring without having to worry about parking a huge RV. Alternatively, a Prevost Class A with slideouts would be pretty cool too!
See ya Bob!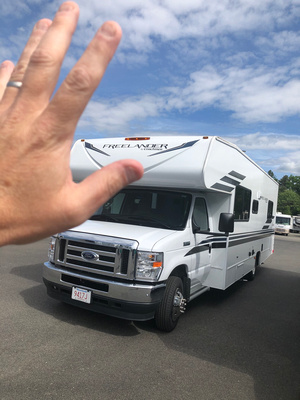 See ya Bob, thanks for keeping us safe!
Some numbers:
Total miles driven: 5746
Total gallons fuel: 577.27
Average MPG: 9.95
Average price per gallon: 2.95
#snow events: 1
# hail events: 2
# tornado warnings: 1
Hillbilly Speedbumps: 54 (WB) + 93 (EB) = 147
Deer carcasses: 18 + 15 = 33
Trump signs: 8 + 6 = 14
Septic drains: 2
Water Fills: 3 (one basically overflowed due to pump being on)
Propane fills: 1
Generator Hours: 0
Total states: 14 (RI, MA, CT, NY, PA, OH, IN, MO, KS, OK, TX, NM, AZ, IL)
Vehicle Specs: Fuel 55 gal, Water 40 gal;, Black water 31 gal, gray water 31 gal
Vehicle tour here: Coachman Freelander
Photos: Scott's Photos
"The best things in life are the people we love, the places we've been and the memories we've made along the way."
~Anon